Testimonials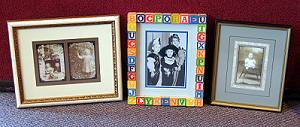 Nothing is more satisfying than seeing the delighted look on a customer's face when they come to pick up their custom framed painting, artwork, or memorabilia.
We are constantly receiving letters and testimonials from our satisfied customers.
Here are a few examples:
---
For the past 10 years, I have used Rousseau's exclusively for my framing needs, which have included everything from original oils and limited edition prints to funky cartoons and post cards. It is always such fun to spend time with Kathie and her helpful staff as we decide what mat and frames to choose. The end results always enhance the art perfectly.
Liz Hendrick
Novato CA
---
I inherited some wonderful cameo pictures from my in-laws. When we painted the inside of the house, I decided to take them to Rousseau's Fine Art Framing to have the matting redone. Kathie picked the colors. Now they are even more beautiful than they were. They took exceptional care of our fine pictures.
Kathy Waterman
San Rafael CA
---
I have been coming to Rousseau's for over 7 years, and have always found help and guidance from Kathie and her staff when choosing suitable framing for my artwork and photographs. The results have been highly successful and exactly as expected. Working with this professional business is an excellent experience and I highly recommend them.
L.F.
Novato CA
---
Visitors to my house have, more than once, commented on how beautifully framed my artwork is. With that I enjoy telling them that almost every piece of artwork that I own has been elegantly presented in Rousseau frames. When you take the time and trouble to buy art that you love, you should take the time and trouble to have it protected and framed by Rousseau's. The staff is always helpful in introducing ideas and concepts that really work to show off my treasures. And I'm always comfortable leaving my original pieces in the capable hands of Rousseau's Fine Art Framing.
Judy Rodoni
Point Reyes Station CA
---
Kathie Rousseau is the best framer in the Bay Area. In addition to elegant museum style framing she can help display art works using a variety of materials, such as Plexiglas boxes, shadow boxes, etc. She is very knowledgeable about the use of archival material and keeps informed on the subject of new conservation developments. Kathie has done a lot framing for two exhibits for me as well as casual stuff. What is so essential to me is to be able to rely upon the aesthetic judgement of my framer in choosing exactly the right frame, the right mat, the right color, the right width, and the correct number of mats. Her framing enhances the total overall effect of a work of art.
Nancy Takahashi
Novato CA
---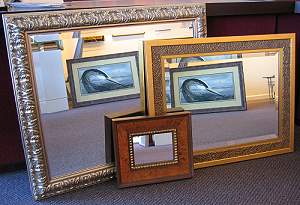 We want you to know how your outstanding framing work means to us. You have framed a great many images for us – fine art paintings, prints and photographs – and every one is wonderfully enhanced by your framing artistry. In several cases, your knowledge of materials and techniques, as well as artistic skill, have vastly improved a previously framed image, which we asked you to reframe.
You have a naturally artistic talent as well as a great ability to deal with people and to help them choose the appropriate matting (color and texture), and framing designs to fit their needs extremely well. Certainly you have done that for us many times over. We have recommended you and your services to others many times and will continue to do so.
Thank you very much for your knowledge, skill and friendship.
Mary Jo & Hart Corbett
Novato CA
---
My husband and I enjoy travelling, and often we bring back a watercolor or an oil painting as a memory from our travels. Working with Kathie, we find the matting and framing that works best with my artwork and fits in well with my home décor. She will often suggest adding little details that set off the framing design, like a gold line painted on the mat or a filet inside a fabric matting. There is nothing more wonderful than beautiful artwork enhanced by beautiful framing.
Britt Marie Morris
Moraga CA
---
If you are in Novato, Petaluma, San Rafael or elsewhere in Marin County
or the San Francisco Bay Area, please contact us so that we may tell you why
Rousseau's Fine Art Framing is the best choice to frame your treasured art work!