About Rousseau's Fine Art Framing
Serving Novato & Marin County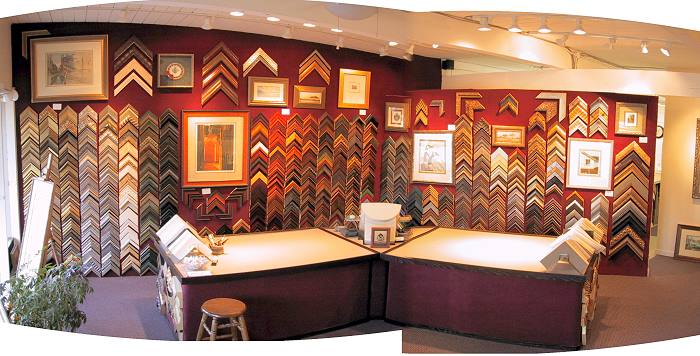 Rousseau's Fine Art Framing is a locally owned and operated custom matting and framing shop located in Novato, Marin County, CA and serving customers from Novato, Petaluma, Marin County and the San Francisco Bay Area. We also serve knowledgeable art collectors throughout the U.S. who value our custom matting skills and our wide selection of custom frames. In business since 1996, Rousseau's is a familiar name in Novato, with a reputation for quality craftsmanship and unique designs and the ability to frame just about any object!
Shop Owner Kathie Rousseau was originally drawn to custom picture framing because of its creativity, and the uniqueness of each framing project. Seldom are any two jobs alike, and each has its artistic and technical challenge. A bonus to this creative process is visiting with you, their customers. For a short while, Kathie and her staff become a part of your life, learning what each piece of artwork means to you, and how you may want to display it in your distinctive home.
Rousseau's is committed to an improved, growing and vibrant downtown for all of Novato. To this end, Ken Harth, Kathie's husband / architect recently served three years as president of the Downtown Novato Business Association and on the Board of the Novato Chamber of Commerce. He continues to serve on various Chamber committees.
If you are in Novato, Petaluma, San Rafael or elsewhere in Marin County
or the San Francisco Bay Area, please contact us so that we may tell you why
Rousseau's Fine Art Framing is the best choice to frame your treasured art work!