Our Specialties:
Shadow Boxes, Unique Custom Frames & More!
"High Tech" Custom Framing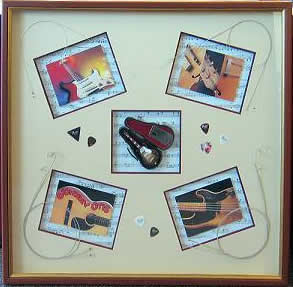 High tech custom framing thrives at Rousseau's Fine Art Framing. Serving Novato, Marin County, and the San Francisco Bay Area since 1996, our shop is evolving with the times. We use computerized mat cutting to expand our creativity and improve accuracy and consistency.
Special, exotic designs and shapes with multiple layer mats are now possible as well as those 20 to 30 mat windows for the duck stamp collection. The imagination is the only limitation.
Yet nothing replaces the skilled craftsmanship of inking a French line, wrapping a fabric liner, re-finishing a frame, or the design talent of our staff. The computer widens our capabilities and complements many of our skills resulting in that uniquely designed look – just for your art.
Here are some of our custom framing specialties:
(Click any Image to see a larger version.
Click the Back Button on your browser to return):
---
"Shadow boxes"
From boomerangs from Down Under to lariats from the Wild West, or simply your child's first clothes and little rattle, shadow boxes present a wonderful array of memorabilia for daily viewing. If you are not sure how to best display your items in a shadow box, don't worry! Bring in the items you would like to display and we will suggest an attractive shadow box design that will become a treasured family heirloom!
| | |
| --- | --- |
| African Carvings in Shadow Box | Display a Christening Dress in a Shadow Box |
| Preparing Medals for Display in a Shadow Box | The Finished Shadow Box |
---
Unique Frame Styles
We offer many unique and hard to find custom framing styles, and we have the expertise to help suggest framing styles and techniques to pefectly complement your treasured artwork. Here are a few of our unique custom framing styles:

New! Hand Wrapped Leather frames!

This is our wall of leather samples.

We have a great selection of Arts and Crafts period style frames


We have a large selection of closed corner, gilded frames, from 16th century to early 20th century, as well as contemporary styles.


We can use stacked frames for that sohpisticated, unique look.

Shadow Boxes are a great way to display
military or career memorabilia.
---
Custom Framed Mirrors
| | |
| --- | --- |
| | Our mirrors are beautifully crafted to complement your furniture and accessories and are custom made to just the size you need. You can choose from hundreds of frame styles ranging from elegantly simple to dramatically ornate. |
---
Needlework stretching/blocking
| | |
| --- | --- |
| | You have just spent many hours creating a beautiful needlepoint to commemorate that special event in the family. Now is the time to seek experienced framers to properly "block" the needlepoint in preparation for matting and framing, and to ensure that your needle art lasts forever. |
---
Plexiglass boxes
| | |
| --- | --- |
| | Sometimes, you may want to see all sides of your football jersey with those team signatures just about everywhere or, the 3 dimensional aspect of your antique doll. An acrylic plexiglass box, which allows visibility on 3 sides or 4, can provide that special look. |
---
Oversized frames
| | |
| --- | --- |
| | Whether it is a 8" wide frame, or it is 8 feet by 12 feet in dimension, we have the experience and facilities to construct oversized frames for unusual artwork or large mirrors for those high ceiling walls in your home. |
---
Quantity framing
When you have that honorary certificate for 30 or 100 participants that needs matting and framing, we are organized to easily handle that kind of special project.
---
If you are in Novato, Petaluma, San Rafael or elsewhere in Marin County
or the San Francisco Bay Area, please contact us so that we may tell you why
Rousseau's Fine Art Framing is the best choice to frame your treasured art work!